Mandarinedu is an effective Chinese online learning School which offers your real face to face Chinese learning Courses with a minimum cost of 8 dollars per lesson. Turn on your computer with your earphone,start a face-to-face mandarin course with your real overseas Mandarin teacher, the internet helps us realized this cheapest and effective dream bettween you and us.
Learn Chinese on line extremely upside down the traditional expensive Chinese learning way, and Created a New Chinese learning way based on the internet. The Cheaper and convenient Chinese learning is coming to you.
Our Services:
1 to 1 live teacher, e-learning (not a recorded video)
30 mins everyday monthly package is creating short time + efficient + continuous Chinese learning
Thousands of Chinese teachers are waiting for your appointment on this website. You can make an appointment 2 hour before the class.
Why Choose us ?
1. 1 on 1 real face to face classes.
individually tailored
Mandarin speaking practices guaranteed,
Mandarin Speaking and listening improved obviously in a short time.
2. The cheapest learning fee in the world.
The lowest price in the world.
4 Dollars per class for a year package after discount now.
CLick here to get more choices for different classes.
3. 100% Mandarin Native speakers
All the mandarin teachers are native speakers.
All the teachers have the certificates of Mandarin teaching.
You will get into the Mandarin environment in the whole class.
More and more Chinese qualified teachers are jining us, it makes your Mandarin learning more colourful.
4. The most convenient way to learn during your buse life.
You can learn in anywhere anytime if you have one internet.
We also prepared the telephone courses if you are inconvenient
We facilitate the learning environment to help you achieve a high-frequency, a short-term, and a continuous learning.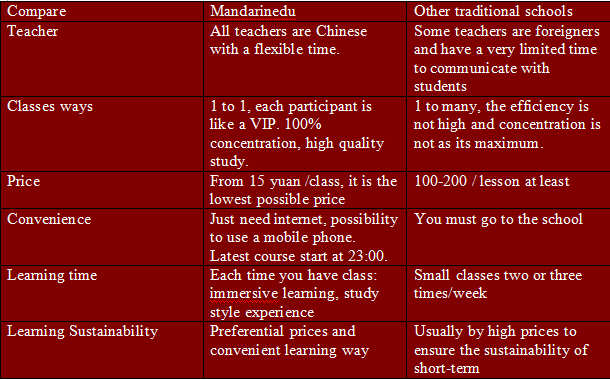 About Mandarinedu School
Wuxi Mandarin Education School was founded in January of 2010, we are: the first Mandarin school in Wuxi, the only Mandarin school authorized by Hongkong Mandarinedu International Education Group which has more than ten years Mandarin teaching experience, the authorized cooperation Mandarin School with the China Scholarship Council, the important cooperative partner with the French-China internship organization and CID-Ghana,The cooperative unit with more than 50 Chinese universities. the Chinese level test HSK registration organization unit, the TCSL teachers' training and Mandarin researching Center, the international English teachers' TESOL Evaluation Center in Wuxi, the main Mandarin training cooperation of the foreign companies which located in Suzhou, Wuxi, Changzhou.We had given the high evaluations and praises by the domestic and foreign medias, we were named "the Great Mandarin School" in Jiangsu. We awarded "the top ten best schools in Jiangsu","Good Faith Education school","the Most Influential Education Institution in Jiangsu Province" and "the Media recommend top school brands" by "Jiangsu Broadcasting Corporation","Jiangsu TV "Focus Jiangsu"Column and "Golden Jiangsu" Column. In September of 2012,we were representative of Wuxi city to participate the "2012 Jiangsu's Got Foreign Talent Singing Competition" hosted by Information Office of Jiangsu Province Government and Jiangsu Broadcasting Corporation, and won awards. In this December of 2013,Seven of our students Won the Prize again. Our school were honored by the Information Office of Jiangsu Province Government. See the honors we got. Our Official School Website: http://www.mandarinedu.cc